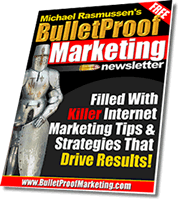 "Subscribe to My FREE Newsletter Filled With Internet Marketing Tips and Strategies That Drive Results!!..."
By Michael Rasmussen
Inside you'll learn...
How to write a killer email promo that brings in mega bucks
How to boost your sales letter's performance
How to create a tidal wave of instant cash by holding a sale the RIGHT way
How to boost your monthly income from one time offers
How to make more from ever ebook you sell
How to make more money by outsourcing your tedious work...
And much, much more...
Just use your first name and valid email as your password - then click the "Give Me Instant Access!" button to enter:
---
You will receive the first lesson in a matter of seconds.
* Your information will never be sold or shared with anyone.
I respect your privacy and hate SPAM with a passion
.